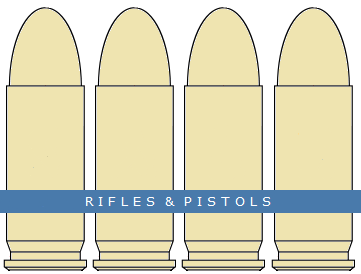 Erwerbsberechtigung erforderlich. Versand innerhalb EU von Erwerbscheinplichtige Waffen erfolgen nach vorlage einen vorherige Einwilligung Ihren Behörden (EU Anlage 19 oder 22) - Vordruck wird nach wunsch zugeschikt, nach evt. kauf.
A nos clients de la C.E.E.
le permis d´importation approuvé par vos autorités, soit l´adresse de votrearmurier qui fera l´intermédiaire.
Nous vous prions d´excuser tout délai de livraison des armes á feu, qui sont soumises á l´obligation de port d´arme en Danemark et á la meme temps librement á acquérir dans votre pays, á cause des strictes dispositions légales Danemark. C´est pourquoi nous recommandons une importation par Líntermédiare d´un armurier.
Clients within the European Community:
Send us your authorized EC-import license, or the address of the firearms dealer who will import the item.
For firearms which are subject to an ownership permit in Denmark, but freely traded in your country, the shipment can be delayed due to the strict provisions of Danish law. This is why we recommend to import such firearms through your arms dealer.
Unsere Kunden innerhalb der Europäischen Gemeinschaft:
Senden Sie uns die von Ihrer Behörde genehmigte EU-Einfuhrbewilligung oder die Adresse Ihres waffenhändlers, über den Sie einführen wollen.
Die Verzögerungen beim Erwerb von in Dänemark besitzkartenpflichtigen und in Ihrem Land frei erwerbbaren Waffen aufgrund der strengen dänischen Rechtsvorschriften bitten wir zu entschuldigen. Wir würden Ihnen hierfür die Einfuhr über Ihren Waffenhändler empfehlen.
The stated prices do not apply to shipment of firearms outside the EU. Please ask: bisgaardnielsen@gmail.com
The price depends on size, weight and destination. Destinations, which we cannot send to, can be found. Again: Please do not hesitate to ask!
Please notice that our selection of flare pistols has been moved to its own categorie, which you'll find in the left menu. / Bitte bemerken Sie, dass Leuchtpistolen jetzt seine eigene Kategorie haben. Bitte sehen sie der Indeks am linken Seite.